A board can hire a rainmaker as their professional fundraiser and absolve themselves of the fiduciary duty of fundraising.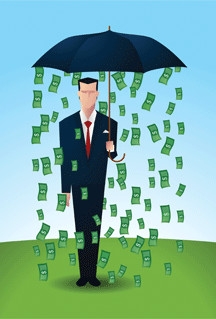 Believe it or not, by hiring a professional fundraiser and the board stepping back (or out of the way) is a no-no. At the end of the day, it is the board's fiduciary responsibility to ensure that the donations are coming into your organization.
The board can, of course, choose to delegate the primary soliciting to the professional, but organizations that are top performers have a symbiotic relationship with the board and staff. There are many ways for board members to be involved that do not have a direct ask associated with them. Perhaps it is hosting a tour of your facility. Perhaps it is helping to identify prospects. Perhaps it is thanking donors once they have chosen to donate to your organization — these are all vitally important roles.
I have come across many boards in my days who see fundraising as a "necessary evil", or, worse yet, will not help the professional staff at all. I go back to when the board members were recruited to join your organization in the first place. Were there clear expectations vis-a-vis fundraising? It is hard to change a board from governance to fundraising (especially if they were recruited with the mandate exclusively to govern). That being said, it is imperative to do. It may take "grandfathering" the existing board members but recruiting new board members with a different fundraising expectation. Again, my biggest challenge always is managing expectations.
One of the key responsibilities of every board member is to ensure sound resources and finances for the organization. That means the board is responsible for seeing to it that the organization has the funds to carry out its mission. Before board members can begin to fundraise externally, each must make a personal financial commitment. The old idea of "I give my time, so I don't have to give my money." is improper (and truthfully offensive — every board member gives of their time. As a matter of fact, my favorite saying in response to "I give my time…" is that when we are raising time, they will be the first person approached.) Each and every board member must make a financial contribution annually that is personally significant and meaningful.
L'chaim!
jack