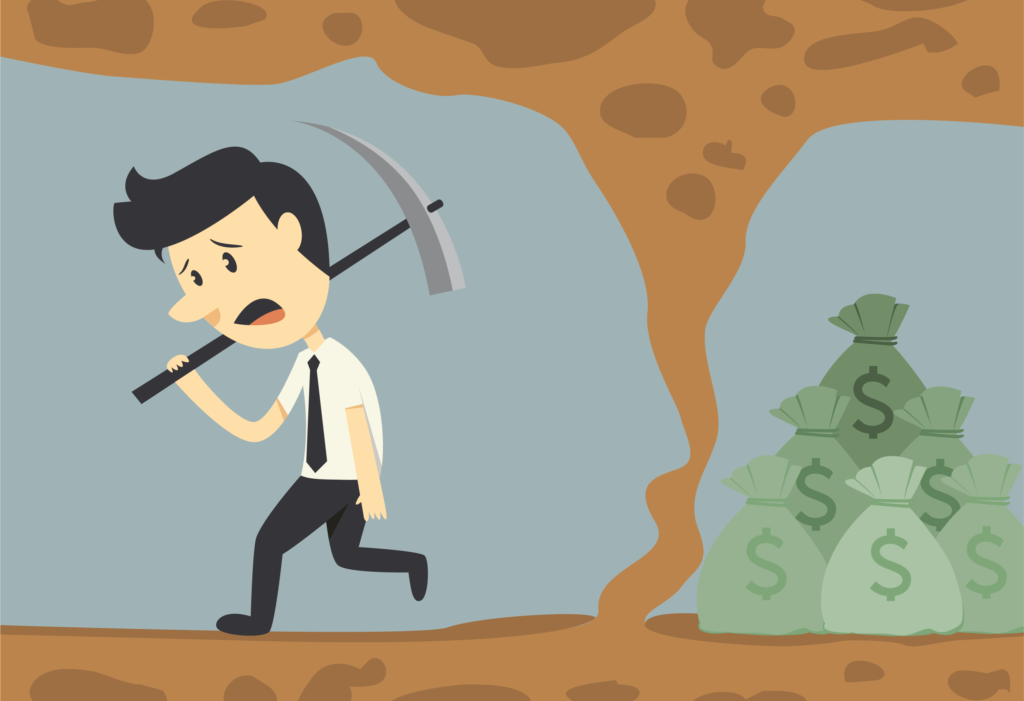 Fundraising during COVID is like using a graphite golf club. Those things that go well go really well, and the things that go poorly go really poorly. Just as a graphite shaft will amplify your shot (good or bad), so too will fundraising in a pandemic. The donors seen as the 1-percenters have seen their wealth increase substantially over the past 10 months, and the folks who have had financial struggles in ordinary times have had their angst amplified. As all of us are more-than-ready to move to a post-COVID era, but hitting a reset button and erasing the last 10 months will likely prove to be unsuccessful. There will be issues raising funds for many charities, and this article hopes to help you identify the issues before they cause irreparable damage. Or, potentially, these may be warning signs that you may not wish to join that organization.
We must look at the signals that exist all around us. Some are pretty obvious, while others need to be sought out. The point is that you really need to be aware of your surroundings.
Issue Rasing Funds #1: High Turnover of Staff
This issue plagues every fundraising office at one point or another. The first step would be to manage expectations. The average tenure of someone in the fundraising world is 18 to 36 months. That was pre-pandemic, and I wrote about that here. I would suggest that now the average is much less. Those who have kept their jobs through the pandemic have been extended far beyond what is normally reasonable concerning their roles and could be looking to change careers. Many fundraisers that I know have left this profession completely. For the most part, the fundraisers currently flourishing have embraced a higher level of interaction with donors. That isn't to say that Direct Mail pieces and mass marketing haven't done well; it's just that that particular medium hasn't really been shaken up.
Did the organization experience a revolving door of staff coming and going pre-pandemic? If so, why? As I had mentioned in the introduction, COVID has amplified everything. The departmental leader who has overstayed their welcome makes a challenging situation worse, or the innovative charities that are reinventing themselves have forged an exciting path for the future. Is there room for personal growth with the organization? Many charities have cut back on development to bolster their bottom line, probably to their ultimate detriment.
Issue Raising Funds #2: The Rainmaker
This, too, plagues every fundraising office at one point or another. It is one of the biggest issues in raising funds (pandemic aside). It is not in the organization's long-term best interest to have one fundraiser as the sole connection to a donor. This is akin to putting all your eggs in one basket. When the "rainmaker" leaves (as eventually, EVERYONE will leave), many organizations are left scrambling to fill a void and create a meaningful relationship. Where this sours is that meaningful relationships cannot be rushed — they take time and are predicated on the donor's timetable, not the organization's. I wrote about that here.
Continuity is so vital in a donor's journey. I am a huge advocate of putting as much donor information into their specific file (i.e., Raiser's Edge) so that anybody can see all of the touchpoints that I have had with a donor since I got to the organization. The donor need not repeat their history to a new fundraiser. Remember that a database is only as good as the information it contains. Contrary to many people's beliefs, it is not a glorified phonebook.
Issue Raising Funds #3: The Organization has been in Financial Straits for a While
Most charitable organizations have seen their bottom line take a beating over the last year. This is due to the worldwide pandemic and a lack of certainty as to the future. That is totally understandable, though ultimately unsustainable. What I am specifically referring to here are those organizations that have had a weak bottom line PRE-pandemic.
COVID has just made a bad situation worse. It has amplified the organization's vulnerabilities. Organizations need to plan for having reserves — there is no other way to weather the storms in the future (and there will be more storms one day). It is always a fine balance between having money in reserves and funding your mission. But, if there are no grants to assist charities in the future, there had better be some internal reserves. Donors will support this notion — many of them are successful business people and see this as a prudent move. There is an episode of the Nonstop Nonprofit podcast featuring Sherry Quam Taylor that tackles this thought here. This issue of financial unsteadiness tends to influence Issue #1 above, staff turnover, directly.
Stay tuned for next week's conclusion to this post regarding issues raising funds.
L'chaim,
jack