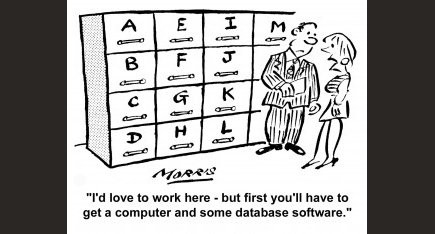 This is a particularly busy time of the season for those in the fundraising world. Many of our donors choose to pay off their pledges (or make new ones) prior to year-end to take advantage of the year-end tax receipt implications. All of this is predicated on having a great working database so that you can get the gifts processed and the receipts mailed. I contend that your database is your biggest asset.
When I first started out in the fundraising world, prospects/donors were recorded on index cards and pledge forms were generic and photocopied for uniformity. Now 20+ years later, the database is probably one of the most important things we own. (That being said, the database is only as good as the data it contains — garbage in/garbage out.)
Staff turnover in the fundraising world is quite common. It would be a true inconvenience for everyone involved (staff and prospects) if the wheel were to be re-created with each new staff member. A good database will record moves management and note all pertinent information — what the donor's interests are, giving history, communication, etc.
Think of all of the time that is needlessly wasted when on-boarding a new staff member. Wouldn't it be great for that new staffer to look to your database and know what is the next step in the moves management cycle?
Granted, many fundraisers loathe the database. I once worked for an organization where the President didn't even have a log-on for the database. That individual never used it (personally). Their administrative support, however, lived in it. I would suggest that the staff should embrace the database, instead of fight it — it is an invaluable tool if utilized correctly.
What goes hand-in-hand with a great database is a great database administrator. In my professional life, I have come across a couple who are really outstanding — they have a genuine desire for pristine data and have found ways that the database can improve fundraising results. (That being said, we have to ensure that the tail doesn't wag the dog — there are a lot of 'one-offs' and things that don't fall neatly into rules and we shouldn't let a donor-centered office be limited by business/database rules.) Improving results is, after all, what we are all about. Many volunteers tell me that we need to get more prospects into the database. Ninety-nine percent of the time, I would humbly suggest that your organization has enough people in your database as it stands — you just aren't mining the great information that you already have!
Too many organizations will invest in a database (sometimes costing up to $75,000+) and not spend any money training the users. They might as well take that $75k and throw it right out the window. Constant training is truly needed. It is an investment in the asset. When you purchase a high-end sports car, often there is a course that teaches you how to utilize the car to it's greatest possibilities — how to make those sharp turns, braking, etc. In the fundraising world, the database is often the biggest asset.
Not every organization needs to spend tens of thousands of dollars on a database. I once consulted for an organization that had approximately 500 constituents and a $50,000 database — something was definitely amiss there. Conversely, I have seen an organization with thousands of constituents who use Microsoft Excel as their database (Excel is not a database folks)!
Conduct a needs analysis for the database — what is the predicted life span of the software? How many users? How many records? Cloud or locally hosted? What reports will you need? How can it grow along with your organization's needs? Will it drive behaviors that will, in turn, drive revenue?
These are all critical questions and these are questions that should be re-visited every 10-years or so. What is shiny and new many years ago may not be so today (think WordPerfect)? Remember, the database is likely your biggest asset.
This will be the last posting for 2017. I wish everyone a very Happy New Year and look forward to posting in 2018.
L'chaim!