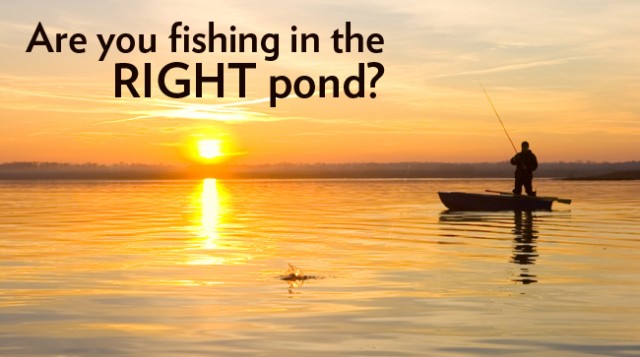 There is always this push/pull dichotomy between donor acquisition and donor upgrade. Above all, a fundraiser's efforts should be precise and fruitful — the spray and pray mentality just isn't very effective. I wrote about the spray and pray method here.
But, how is a fundraiser to effectively raise more funds? I have often voiced my point that one should be mining their own database for the best donors as opposed to looking for new prospects or launching shiny new events. I even wrote a blog about it here.
Which Pond to Fish in — Acquisition or Upgrade?
You have less than a 2% chance of obtaining a gift from a prospect. That's it. 2%. Now, those odds are better than a lottery ticket, but it is nevertheless a remote possibility for success. However, you need to have a big enough prospect list where 2% is a meaningful number. If, for example, you had 1,000 prospects, that would result in 20 gifts — a fairly large amount of work for a relatively small return.
You have somewhere between 20% and 40% of a chance of obtaining a gift from a lapsed donor. The range is quite large, but it would likely be predicated on the reason for the lapse. Were they not asked? Were they a first-time donor? Have their priorities shifted, for example? These lapsed donors are often a great cohort to re-engage.
You have a 60 – 70% chance of obtaining an additional gift from an existing donor. This is the holy grail, as they say. The hard part (of showing the donor that you are worthy of support) has already been established.
Why do Donors Stop Giving?
Bloomerang did a great study on this. Some of these responses will amaze you:
5% think the charity doesn't need them
8% were not given any information on how the donation was used
9% have no memory of supporting the organization (WTF?????)
13% never got thanked for their donation
16% died
18% said poor service and/or poor communication
36% said other charities were more worthy
54% said they could no longer afford
The list above reflects an overall lack of donor relations. Certainly, part of stewarding the gift is ensuring that the donor is well aware of the impact of their past generosity, as well as why your charity is deserving of support in the first place.
By the way, if 16% of your donor base has died, you need to look for younger donors!
Communication is a Two-Way Street
While it is fine and dandy to have great donor impact reports, thank you letters, and other donor relations tools in your toolbox, remember that you need to be donor-centered.
For example, is there an opportunity for the donor to give feedback? Did this past gift accomplish the donor's goals? How can the next gift be more impactful for the donor?
Similarly, but far too often, the Development Office sends out what they believe to be the best stewardship piece of collateral to donors. Often times it is without consultation with the donor beforehand. Is this truly what the donor wants/expects?
The biggest 'offender' of the one-way communication is the pledge reminder notice. Quite often, it resembles a hydro bill — a generic, invoice-looking document that may include a motherhood statement about the organization, etc. What's even worse are the communications for the donors that are multi-year pledges. Sometimes, fundraising shops only give the donors their annual tax receipt — with no other impact documentation! These are your most dedicated donors, people. Above all, please, treat them as such.
There will not be a posting next week.
Have a happy remainder of May.
L'chaim.
jack